Transportation from Jorge Newbery Airport Buenos Aires
Taxi: It will cost you about A$10 (US$3) to A$15 (US$4) to reach most hotels in downtown Buenos Aires.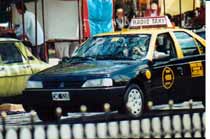 There is a taxi stop outside the arrivals hall. These are the local black and yellow taxis of Capital Federal. You should feel safe taking one of these taxis from Aeroparque Buenos Aires airport with these taxis as they are all registered before you take one and a camera is constantly taking pictures of the drivers as they leave the airport.
To get from your hotel to the airport, try not to take a taxi on the street. It is safer to ask your hotel to call one or you can call one yourself from your a cell phone or any of the public phones available throughout the city.
Limo Service: It will cost you a little more than the taxi and to get to the Aeroparque Buenos Aires airport from your hotel you'll need to book it in advance. The car and the service are going to be better but it is a very short trip so the taxi may be just fine.
Public Bus: It will cost you only A$0.80 or about US$0.20. If you are not carrying much luggage and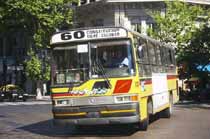 want to save some money and experience the famous bus system in Buenos Aires, this may be a good alternative. You can ask directions at the information booth in the airport but the bus number 33 takes you to Retiro Terminal and the bus number 37 takes you to Plaza del Congreso. The fare is paid with coins. You should ask the driver to let you know when you should get off so stay at the front of the bus.